Canadian Girl Makes Graduation Dress Out of Paper To Support Malala Fund!
By Erinne, Malala supporter, Canada

UPDATE 6/30/2015: This dress has been sold in a GoBid.ca auction for $1,150, with all proceeds going to Malala Fund!
My name is Erinne and I am an 18-year-old girl from Canada. In 2014 I was very privileged to hear Malala speak live at the first ever We Day UK. The passion that she spoke with, and authenticity of her words inspired me to an extent I can't even describe.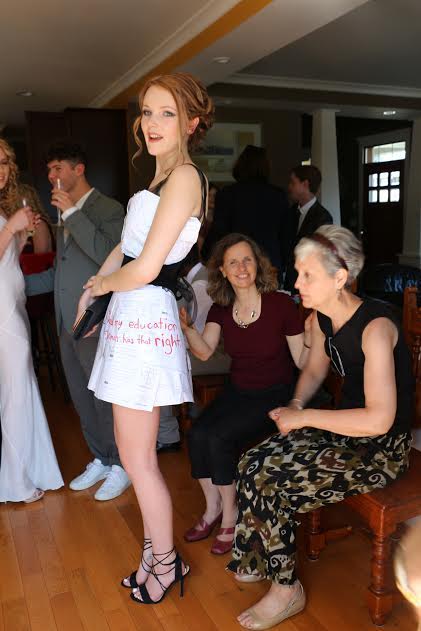 I've always had a passion for activism especially education and women's rights. Throughout this past year, an activist group I co-founded at my high school, "Action Now," explored the topic of women's rights, and we made an awareness campaign on women's equality.
Eventually graduation began to approach, and the idea of creating a graduation dress out of recycled materials entered my mind. Someone I knew had done this a few years back by making her dress out of newspapers.
There is so much energy and attention put into the high school graduation celebration in North America that I wondered if some of that could be redirected to support the Malala Fund's fight for girls' rights to education around the world.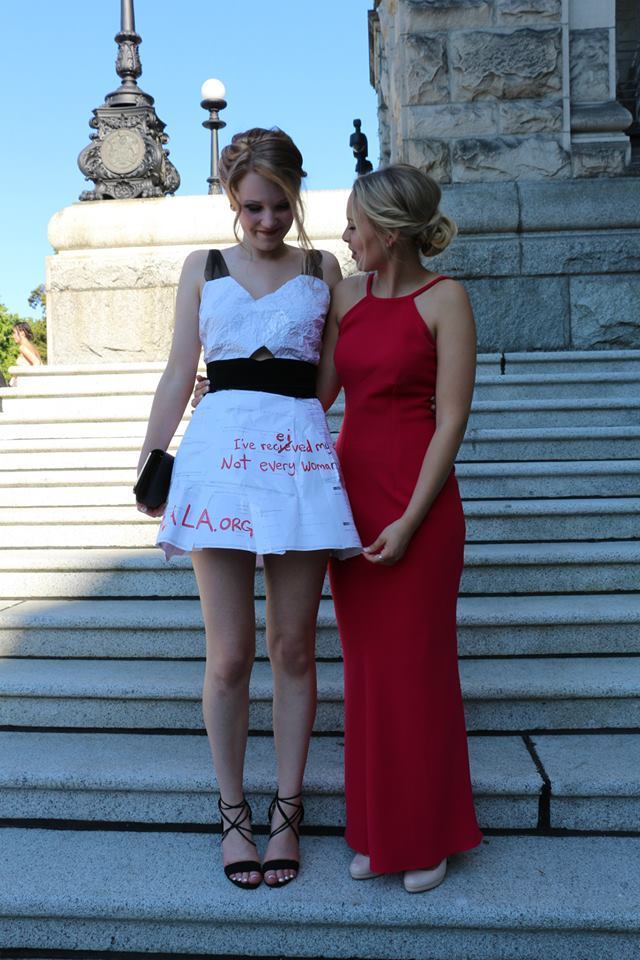 The fact that over 62 million girls are deprived of access to secondary education also moved me immensely. That is nearly double the population of Canada, my country!
I created my graduation dress with my best friend over one day in my living room. It was made out of my old pre-calculus notes and held together by tape. It also included back velvet and satin.
On it I wrote in red paint "I've received my education. Not every woman has that right. Malala.org".
I chose the Malala Fund because advocating for girls' education is extremely important, and the Fund's ability to support so many different initiatives and girl heroes within the movement is truly inspirational.
I knew that both high school graduations and social media were platforms I had access to, and wanted to use these to help in any way i could.
I donated the money I would have spent on a dress to the Malala Fund, and encouraged others to go to Malala.org and donate to girls' education projects around the world.
I am also now auctioning off my dress to raise further funds for the organization at http://gobid.ca/ad/8106/show/.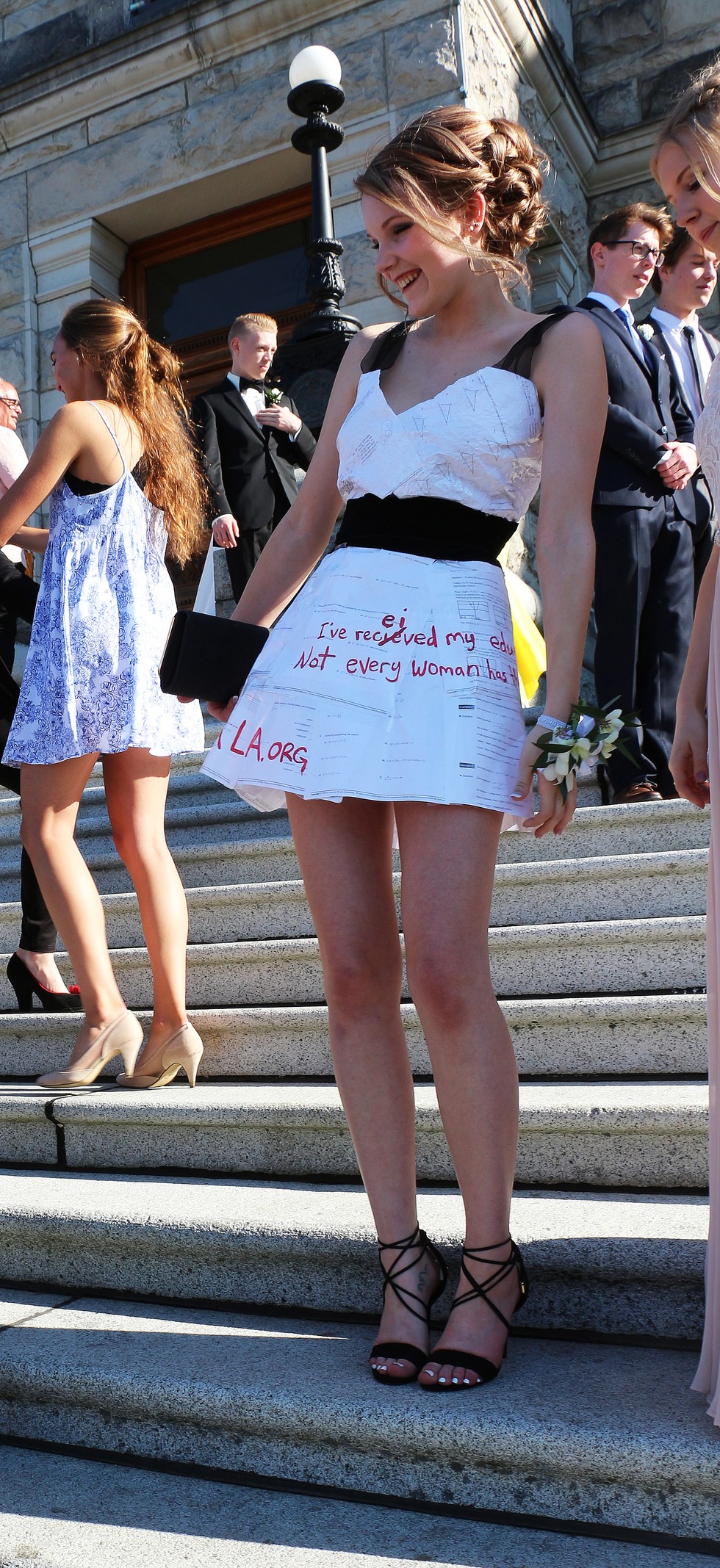 At the moment the highest bid is $505. I strongly believe every contribution counts and people have more ability to help than they believe. I hope that my story can show others - in North America especially - that if you keep your eyes, ears and heart open to what is happening around you in the world, you have the power to support positive change.
The online support for the story of my Malala Fund Paper Dress has been beyond incredible.
Currently I am giving radio, TV and online interviews around British Columbia and National news outlets. The original post about my dress on a Facebook page called " Spotted in Victoria" has to date over 11,000 likes and 2,000 shares.
Another Facebook page called "A Mighty Girl" has also shared the story and has received over 15,000 likes and 3,000 shares in the last 10 hours.
I was extremely happy with the positive comments talking about donating to the Malala Fund and speaking about the new awareness they now had on the topic.
I believe all girls deserve the right to get a free, quality secondary education because the circumstances in which you are born into in life should never define your potential to contribute positively to the world.
I cannot, to any degree imagine, what it might be like to have to stand up and fight for an education mainly because of your sex.
In September I will be studying International Relations at the University of Toronto as one of 11 National Scholars from across Canada this year. I am interested in studying International Law after my undergraduate degree and my dream career would be working for an organization like the United Nations to try and continue fighting for human rights.
For positive global development to excel we must focus on the equality of women, especially when it comes to education. For anyone who wants to support the Malala Fund, the best advice I can offer is to consider the resources you have around you, and use those to help support the initiative.
Big thank you to Erinne for her creative fundraising project and her incredible passion for girls' education. We're so lucky to have awesome supporters like you. And good luck in college - you're going to do great things!
If you would like to support Erinne's Malala Fund Paper Dress project, please visit her Go Fund Me page.